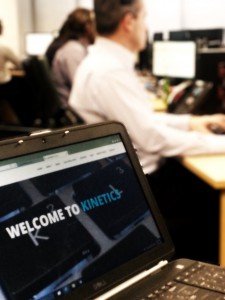 What IT Shouldn't be about
Most organisations view IT as an annoying expense.  The right IT is an enabler for business.  It is a strategic tool.  Download our e-book on what IT should be about…
FIVE (5) MICROSOFT GOLD COMPETENCIES
Our determination to keep investing in oursleves and supporting our techncial team has seen our level of certifcation continue to grow.  In 2021, Kinetics Group achieved holding FIVE Microsoft Gold Competencies, reflecting our skills in cloud migrations, and more importantly in applying cloud technology to help our clients achieve their business goals.

New Management
By 2019, Kinetics Group needed new energy leading it day-to-day.  Kinetics hired Matt Paterson as COO, and by 2020 he was slowly taking over the CEO duties.  Kinetics recognised that businesses often need different skills and experiences in management as they mature, and fresh thinking.  Andrew Hunt remains involved at a strategic level, driving new initiatives and sharing expertise to support Matt and his team. 
COVID19
How can any timeline be complete with a nod to the COVID pandemic.  Like all organisations, Kinetics Group has clients that were turned upside down.  Some business initiatives were simply unable to operate at all under COVID conditions, while others were dramatically reduced.   Many clients were thrown into survival regime, and we were proud to flex and find new ways support them. 
Most importantly, like all businesses, we found new ways of working for our own team, as working (securely) from home became the norm, and new ways of supporting our colleagues. 
Moved into purpose-built office in Newmarket
After over 15 years in Penrose, Kinetics moved into new offices in Newmarket, purpose built for the next phase of our business requirements.   The ways that people work together in offices and interact with each other have evolved.  They need newer, more flexible workspaces, with more shared areas and collobration zones.  Likewise, the way that people get to work has shifted dramatiaclly, and public transport hubs and routes are more important than ever, so our new office reflects the changing needs of our dynamic workforce.
Overall NZ Partner of the Year – and Cloud Productivity Partner
We were honoured to receive two accolades from Microsoft in 2017.  Awarded Cloud Productivity Partner confirmed our ability to help businesses make use of cloud infrastructure and services.  All too often, clouds are implemented, but the organisation uses a fraction of its capability.  The NZ Country Partner of the Year was an amazing honour – selected from all Microsoft Partners as the best example of expertise and innovation in delivering transformative solutions.
Learning Partner Award
Having been moving clients to the cloud since 2005, we foresaw that many clients would need new strategies to compete. Better use of their IT tools would become a key advantage for businesses as they relied more on technology to deliver efficiency and improve customer value. We also noted that traditional trainers were not embracing the cloud and were focused on outdated classroom type training which is the core difference of our Computer Coaching service.
In 2016 Microsoft's thinking caught up with Kinetics innovation and we became the first non-traditional provider to win their Learning Partner award.
Business Advisory
In 2015 Kinetics Group launched Business Advisory, a true expression of 'Why, not What'. The Business Advisory service embeds an experienced IT Manager into a client's business. The Business Advisor learns the client's business process and strategic goals. Asking "Why" they help the business develop and execute IT strategies to achieve their business goals. The Advisors also act as project managers and technical advisors, including conducting "FlightPlans".
Kinetics Christchurch
Kinetics Group has longstanding and strong relationships with our IT support providers around the country. In 2014 we opened our own Christchurch office and since then have been expanding our presence into other major centres.
New Zealand's First Worldwide Award
Kinetics Group had twice been a finalist out of the thousands of entries in Microsoft's Worldwide Partner awards. In 2013 Kinetics was invited to the Microsoft Worldwide Partner Conference in Houston where in front of tens of thousands of partners, we were presented with the World Small Business Partner of the Year award. The award recognised Kinetics innovative use of cloud solutions to add value to our clients. Kinetics was the first and only New Zealand IT company to receive a global IT support award.
No term contracts
Kinetics Group was again ahead of the curve changing all our KARE support contracts to no-term agreements. Our client-focused philosophy says that if we are failing to deliver, there should be no barrier to a client changing provider.
That same philosophy is the reason that Kinetics is almost unique amongst IT companies in our belief that site documentation belongs to the client. We will happily make it available at any time and on the rare occasion that a client does move on from us. Kinetics makes sure that all relevant information is passed onto the client for use by their new provider.
Computer Coaching
'WHY not What' thinking led to Kinetics Group identifying that BPOS (Business Productivity Online Services) would change IT landscape again. As more services were delivered out of the cloud, we realised that competitive advantage would come more from how you used those services. Computer Coaching was launched to help clients gain more value from the tools and to lift the end user's skills with the tools they already had.
The Kinetics Computer Coaching service is now used nationwide by other IT providers as they recognise that true value comes from how IT tools are actually used.
Microsoft Cloud is Born
The Microsoft Cloud was born as BPOS (Business Productivity Online Services). Microsoft New Zealand chose Kinetics as key partner in the launch of BPOS. Having been providing Cloud services since 2005 we were quick to see the potential benefit for some of our clients. Where the cloud was the right solution, offering cost savings and/or a competitive advantage, we recommend it to clients.
Kinetics was the first IT support company in Asia Pacific to take a client to the Microsoft cloud. That company is still using the Cloud (now called Office 365 and Azure) and is still a Kinetics client. Today, three quarters of all Kinetics clients make use of some type of cloud solution.
Managed Service Provider
In 2007 Kinetics Group could see that the IT world was again changing. Tools where becoming available that would assist proactive identification of possible issues and their resolution before they had a business impact. Kinetics became one of the first New Zealand companies to offer proactive monitoring with what would later become known as our KARE service.
Fixed Price Projects and Contracts
The early adoption of MSP (Managed Service Provider) was combined with Kinetics offering fixed price support and fixed price contracts. We also introduced fixed price projects. Kinetics set the standard by opening the definition of 'fixed' up well beyond that still used by many companies today. Kinetics believes its fixed price contacts are still the most inclusive in the industry.
Gold Competency  
2007 was also the year that Kinetics obtained its first Gold competency. Our commitment to ongoing training and reinvestment in our engineers has resulted in Kinetics earning three Gold and seven silver competencies. Kinetics was the first New Zealand provider to earn the Gold Small Medium Enterprise Cloud Competency. This demonstrates our expertise across a wide variety of the skills required to successful support all aspects of a company's IT needs, past present and future.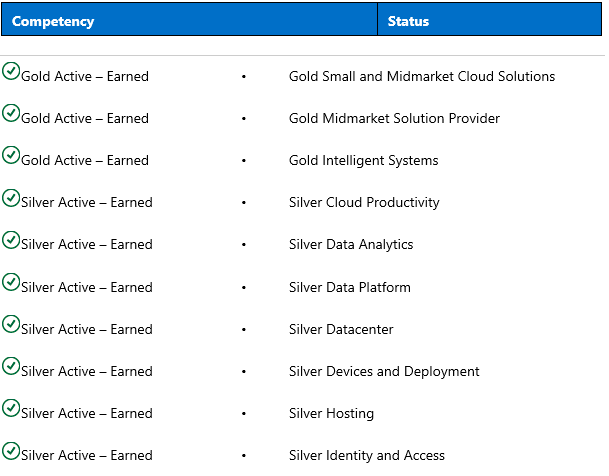 Kinetics has more qualifications, awards and competencies than any IT provider of similar size.
Microsoft New Zealand Award
2005 was inaugural year of the Microsoft New Zealand Partner awards.  Kinetics won the 2005 Small Medium Enterprise award.
Every year since 2005 Microsoft has invited 4500+ New Zealand IT companies to enter the awards across 7 categories. In all the technical categories, Microsoft is looking for companies that have proven outcomes adding value and competitive advantage to the client. Three finalists are chosen before the winner is announced. Kinetics has been a finalist in the Small Medium Enterprise award (and later its related Cloud award) every year since the awards inception. We have been the Winner six times in its eleven years, making us the most awarded Small Medium Enterprise Cloud specialist in New Zealand.
The first Cloud
In 2005 'the Cloud' as it's known today, was still in the future. But Kinetics saw a need for companies to access the features and services associated with on premise solutions without the expenditure on infrastructure. So Kinetics partnered with another local provider and deployed an innovative cloud hosted solution for Exchange email and applications.
Later when the Microsoft Cloud was launched in Asia Pacific, Kinetics habit of thinking beyond the physical confines of server rooms placed us at the forefront of Microsoft Cloud deployment.
Silver Competency
Kinetics had been a Microsoft partner since the 1990's. In 2004 this relationship took a major step forward when Microsoft recognised that although Kinetics recorded no sales of Microsoft products, we influenced the decisions of a significant number of licenses and more importantly, we successfully delivered Microsoft products as valuable additions to our client's business tools.
With Microsoft's help, Kinetics gained its first Microsoft Competency.
Microsoft says "Competencies prove a company's expertise in delivering quality solutions in specialised areas of business". They publish these through Pinpoint (http://pinpoint.microsoft.com) to assist Microsoft customers choose an IT partner.
To gain and retain a competency, a support provider needs to have a number of current client testimonials and qualifications. For some competencies there is also a requirement for recorded sales. The highest level of a competency is Gold, which requires more testimonials and recorded sales in addition to further qualifications.
Refocused on Business needs
With Y2K behind us, Kinetics took a closer look at the work we did and how that impacted clients. In an age when technology was still new and often seen as important in its own right, Kinetics again innovated and changed the focus away from pure technology. "Why, not What" became our mantra.
Being well established as technical experts we refined ourselves to become a highly responsive service provider. Our methodologies, procedures and policies were reviewed and rewritten to focus on service as the key element. A process and focus that continues to this day.
with over 10 years Experience
have completed Microsoft Qualifications
have a current Microsoft Cloud Qualification
have a non-Microsoft IT Qualification
No hardware and software sales
Kinetics has always been an innovator, proud to be leading edge, not bleeding edge. Right from the start, the decision was made not to sell hardware and software. At the time this was a novel approach with possibly only one other IT company prepared to step outside of established practise and be truly independent. Being independent is important to us. When we make a recommendation it's because we see it as the correct answer, not the only answer we have signed up to.    
Experience and qualifications
From the start, Kinetics employed engineers with both experience and qualifications. When recruiting, we looked for engineers with a settled work history. Kinetics believes that good engineers learn by the experience of living through the lifetime of their decisions and implementations. Today, over half Kinetics team of over 20 engineers have more than a decade experience each, and many have more than 20 years.
This wealth of experience means our engineers have been though many dramatic changes in the IT landscape. The latest (Cloud) is part of that evolution as IT platforms continue to mature. As with each past progression, Kinetics has invested heavily in the Cloud, gaining excellent Cloud credentials through experience and qualifications backed by Kinetics methodologies.
The ever changing nature of IT reinforces our priority on current qualifications. All Kinetics engineers have completed Microsoft qualifications. 75% of engineers have updated to a current Microsoft Qualification within the past two years. All but one of those engineers has a Microsoft Cloud qualification.
In addition to Microsoft qualifications, Kinetics engineers hold current qualifications in Amazon, Apple, CISCO, VMware, WatchGuard as well as other products and services.
Kinetics Founded
Andrew and Connie Hunt found Kinetics Group. We are proud to say that 20 years later, our founding clients are still with us.
By 1998 the shape of Kinetics was already forming around two key elements: experience combined with qualifications and independence.
Kinetics Group is proud to be a Lab Partner for the Malaghan Institute.  The Malaghan Institute is New Zealand's leading medical research institute focused on finding cures for cancer, asthma and allergy, multiple sclerosis and infectious disease.   Based at Victoria University, the institute is world-renowned for their groundbreaking research in cancer immunotherapy. Kinetics sees the can-do attitude of the Malaghan Institute as inspirational, and the work has real meaning that we can relate to.   The commitment, strength and determination are values that we endeavour to live by ourselves.