Pictures can enhance and help to communicate information in documents and messages particularly in Word, PowerPoint and Outlook.
However a document with lots of pictures can slow down scrolling and navigation.  The Office 2010 applications have a picture compression tool that enables you to compress pictures quickly and easily.
It is really useful if you carry documents or presentations with lots of pictures or need to distribute them by email and have a limit on file size.  The compress tool can optimise the size of the picture(s) and remove cropped parts of pictures to reduce file size and save you lots of precious storage space.
In this example we will compress pictures in a Word document. The same steps work in Outlook, Excel, PowerPoint and Publisher.
1. Open your document in Word, we will check the size of the file
before we compress the pictures
2. Click the File tab – select Info, the Properties area displays the size of the file
3. Click the Home Tab
4. Navigate to a picture
5. Click on the picture, the Picture Tools – Format tab will display
6. Click Compress Pictures  
7. Set the options you require – click OK
8. Save your document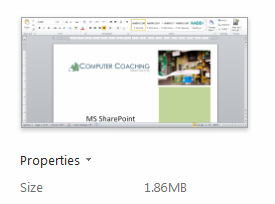 9. Click the File tab – select Info to check the new size
NOTE
: When you add a picture to your document it is automatically compressed using the number specified in
Image Size
and
Quality
under
File –
​
Options
–
Advanced
, by default this is set for print (220 ppi), but you can change this.