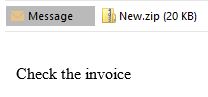 There's an epidemic of emails floating around right now, and even the best anti-Virus and anti-Spam are letting them through.
The most common one today simply says 'Invoices' and it contains a ZIP file that it encourages you to open.
[header2 text="Don't pass go – don't open the attachment! – DELETE IT!" align="left" color="#00cfef" margintop=""]
Not all Zip files are what they seem, and for that matter, even traditional Word documents can contain macro's that cause harm.
The old rules still apply to email – beware of emails you don't expect, don't open them – check with the sender.
Keep ever vigilant with your emails, and warn your colleagues.