Project Success
---
As well as winning the contract and growing their business, this project has been vital in ensuring the strict project timelines are achieved. Not only has it driven success in this instance but it has also laid open new opportunities for further innovative projects, driving sustained growth for Hampton Jones into the future.
Project Profile
---
When the Ministry of Education set out to assess their building stock, we had little idea of the size of opportunity. Our client, Hampton Jones, a leading Property Consultancy, responded to the Ministry's tender request, seeing it as a good fit for their business. With a strong private sector practice, moving into the public sector was a significant opportunity for growth. Reviewing 5500 school buildings spread over 1759 schools nationally is a huge undertaking and is the largest survey of its kind undertaken in NZ; winning the tender meant a significant contract & growth by approx 25% for Hampton Jones. The result has cemented Hampton Jones's reputation as a leader in their industry. They've used it to take a leadership role in a new sector & enhanced their reputation as an innovative 'can-do' and client focussed business.
Nimble Design
When we first got the call, it was to create a simple proof of concept for a project that Hampton Jones were tendering for. When they won the deal, we were told that our SharePoint solution had been instrumental. This project was very different from anything we had seen before. There was a very short turnaround to meet the timeline of surveying 5500 school buildings in just 7 months. There was no time for a conventional software development lifecycle. Kinetics dedicated a team to design, build, test, implement and coach, working collaboratively with Hampton Jones. This partnership style rapid development allowed us to start building even before the final details were defined.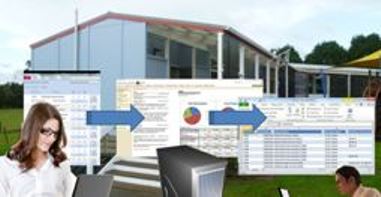 Kinetics & Hampton Jones had to identify hardware and software solutions that were appropriate for offsite use, able to work in rain & snow, on a school field, or in the gym. The use of Windows 7 tablets with Access 2010 synchronising data to SharePoint at Head Office was an innovative solution as was using Excel to publish BI data to the Ministry of Education and KPMG
With no time for a full pilot, we had to test the solution in the field and that meant collaborative work with the team and a number of workshops to gather feedback and turn around enhancements as needed. Even the KPI charts evolved as the project progressed and the best data presentation format became clear.
The ultimate satisfaction test was when we were called to Wellington as part of Hampton Jones' project team to meet the Ministry of Education We had to present the solution and progress to various stakeholders including the Ministry of Education CIO and her IT team. Their praise for our innovations and agility was particularly pleasing and we understand the project was used as an example at a subsequent government CIO's meeting
Organisation size
---
30 employees, across NZ
Property Management Consultancy – Building Surveyors, Quantity Surveyors, Project Managers, Designers
Auckland, Wellington and Christchurch – New Zealand
Software and Services
---
Microsoft Small Business Server 2008
Microsoft Exchange
Microsoft SharePoint
Windows 7
Office 2010 with Access 2010