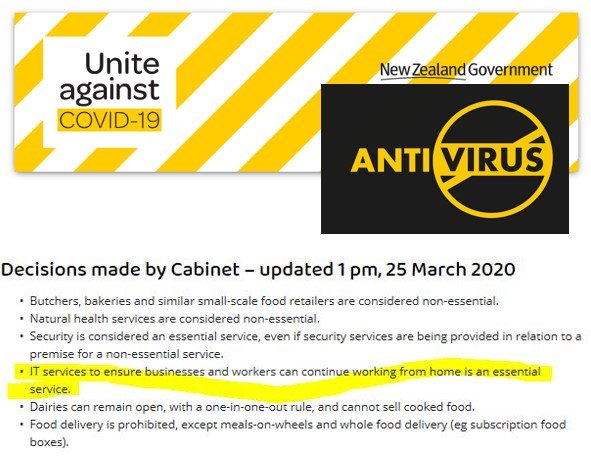 As updated by the Cabinet yesterday, helping you to work from home is an essential service. That doesn't mean business as usual though. We're well aware that we need to fight this virus together.
KINETICS is able to visit customer sites when necessary to ensure work from home continuity for our clients.
We still need to do this safely. That means we need to confirm that the work we are doing is essential, (i.e. essential to helping people work from home) and that we maintain proper safety on site. We see this as being appropriate to working on your offices on your infrastructure, and highly unlikely that we can visit private places of residence.
If on-site support is required, Greg Stuart, our Engineering Services Manager, will be approving these requests based on the following criteria to ensure the safety of our staff and the staff member being visited.
We will be making sure :
To observe social distancing (2m apart)
No contact with people 70+ or who have recently traveled overseas, or being as Covid19 close contact, or has been exhibiting flu-like symptom
No one present with immunity vulnerabilities, e.g. currently undergoing cancer treatment
Working on clean, disinfected surfaces
Examples of the type of work that would come under this definition include:
Priority 1 outages requiring a site visit
Project work requiring onsite work
Essential home visit work that's deemed business critical
Examples of the things that would not be included in that definition are:
Home printer issues
Non-business assets hardware repairs (home PC's)
Non-business impacting issues
The emphasis is on essential repairs, those that pose no immediate threat to health and safety. If the need is not immediate and it can wait for another day, then we should not be doing that work.
Our reference is taken from the Essential Services section of https://covid19.govt.nz/government-actions/covid-19-alert-level/essential-businesses
So, if your servers need work done to keep them going, we can visit site (providing you can help us gain access).  If your router or firewall needs to be reset, we can help.  If disks fail in your infrastructure, we replace them.  We can keep you working!
Just send us an email (from your authorised contact – we still need to make sure we're authorised to do work and any purchase orders etc are in place if needed), stating that the work is essential.
We remain committed to working from home to support our clients and help you achieve your goals. Some of our clients are officially essential services themselves, others are not. But for us, all our clients are essential and we're here for you!