Last month we highlighted the new 'dictation' feature in Office – Outlook and Word, and it seems heaps of our readers and clients have embraced it!  This month, we've looked through all that's new with Office 365 and we're going to highlight some useful features – Translate and Activity.
[header2 text="Microsoft keep adding new features to Office all the time.  It's hard to keep up!  " align="left" color="#336A40″ margintop=""]
With a KAMBIUM subscription, we'll help you stay up to date,  we'll help you identify the ones that make sense to your organisation, and we'll help you and your team adopt them.
Essentially we help you stay in front of your competition, and maximise your staff productivity on the things they do each and every day.
So, this month, two little cool adds.
Firstly, translate is now in teams.   We've got an increasingly multi-national workforce and more of our clients now have a presence in their overseas markets.  Translation tools have made a rapid rise lately and they get better and more accurate all the time – great for those of us that never mastered another language!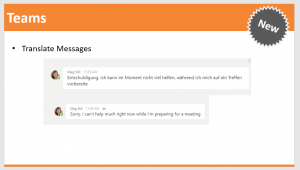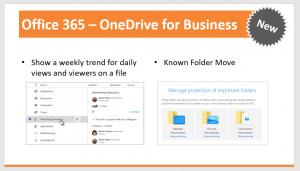 Secondly, you can now see whether anyone, or the right people, are looking at your hard work – after slaving blood, sweat and tears on reports, papers, plans and so on – it's good to know that our work is useful and this is one tool for tracking that!
For more information on these, or on the 100's of other Office updates and new features, please call your account manager and come to a Kambium seminar