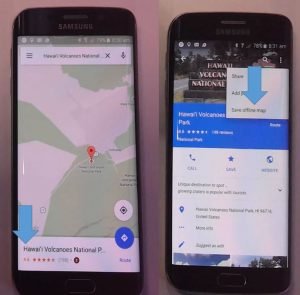 News today is that Offline maps are coming to Google Maps – the ability to download a map of an area before you head away – particularly useful if you are travelling somewhere where there is poor mobile coverage or expensive roaming rates.
Of course, if you have an Android phone, this service has been available for a while. Its just as easy as 1-2-3!
1. Just open Google Maps and search for where you want to go.
2. Select the 'pin' by touching the name, as highlighted in the diagram
3. You'll now get a drop down menu in the top right (three vertical dots).  That menu will let you save the map!
You'll be able to zoom in and select just what you want.  There is a size restriction, so you can select a neighbourhood but not a whole city.
These instructions work for Android. As soon as someone walks by with an iPhone, we'll work out how to do it on that and post the instructions.