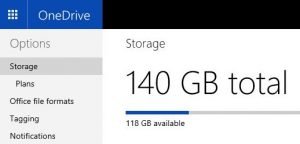 If, like me, you love OneDrive, be warned that the space you get for free is being reduced.
[header2 text="I love using OneDrive!" align="left" color="#00cfef" margintop=""]
I use it to keep the family photos, to backup the camera on my Android phone, to store my music, to share a family OneNote file and generally keep my personal stuff.   It is brilliant how my content follows me no matter what device I am using.
So it's disappointing to see that free space is going to reduce from 15Gb to 5Gb from 2016.  If you have got any extra space (like the 100Gb free that Samsung may give out with new Galaxy phones), check the expiration date (in my case its April 2017).
Check out Microsoft's post about this: https://blog.onedrive.com/onedrive_changes/
The good news is that you can still get 1Tb of space with the personal edition of Office 365, or you can buy more space online – from only $3 per month for 100Gb – when you sign into the Onedrive online portal, it's easy to add the subscription you need – https://www.microsoft.com/en-us/microsoft-365/onedrive/online-cloud-storage