Trans-Tasman outages
On the 15th June Microsoft experienced issues across Australia and New Zealand with Teams calling.
For Those of us using Microsoft Teams as our phone system, they stopped working.  We experienced issues with inbound and outbound calls.
The disruption lasted for around 90 minutes while Microsoft identified the cause and migrated the calling to alternative systems. At the time they suspected an underlying hardware issue. Kinetics, like many of our clients, found ourselves without land lines.
The outage has given us cause to review our decision to move to Microsoft Teams. After the dust settled and we took an honest look, we remember that every phone system we have ever had has gone down at some point in it's life.  What we need to do is make sure we have plans in place to help us cope with any unexpected event. For ourselves we have the following check point which you may also find useful.
Check with your provider. How can you divert phones, without having to call them?
Make sure you have system for bulk emailing your clients if you need to inform them of issues.
Look at having a way to update your web site with client instructions in an emergency.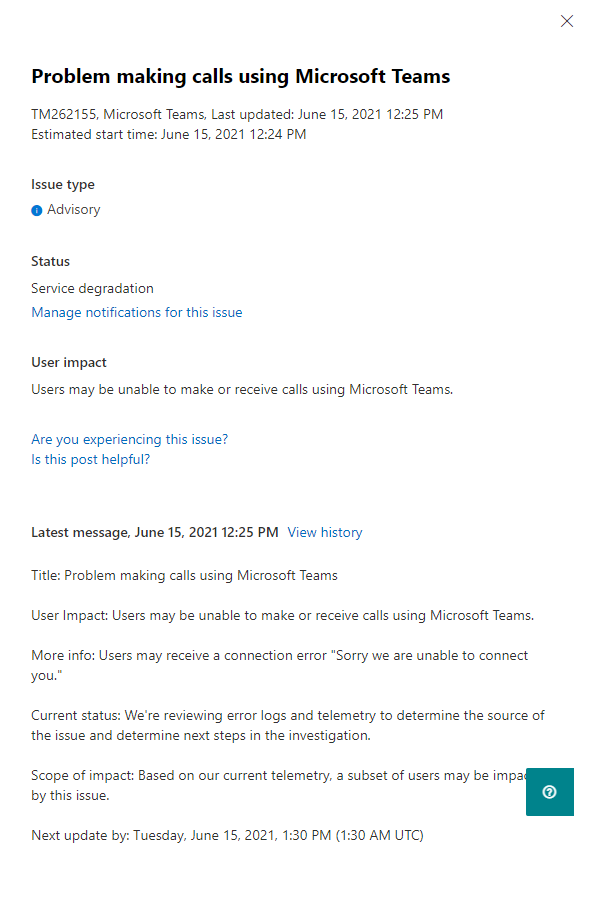 One thing is certain
at some point, there will be another outage somewhere. It might be a widespread power outage.  Maybe a roading contractor cuts an internet cable.  There could be a flood.  Having basic systems of communication in place will then prove very worthwhile.  For example, we have a system for emailing all clients that have registered for email updates. During this outage we learnt that it would be helpful to have a template ready to go. In the rush to communicate, it can be easy to miss a step and spend valuable time troubleshooting. A little planning, can go a long way.
https://twitter.com/MSFT365Status/status/1404597014659272706
We also had a timely reminder of how helpless we all feel when something breaks and we have to wait for a supplier to fix it.  The irony isn't lost on us and we know that you know how that feels!