While stocks last!
What is happening to supplies right now?  We're experiencing an unprecedented shortage in new IT equipment. At this rate, they seem a prime candidate for 2021's 'toilet paper.' Never has "while stocks last" been so apt!  Global supply chains are stalled and new electronics are being impacted badly.  We're used to being able to get things we order more or less the next day, but that's becoming a fond memory (a bit like overseas travel!).
Insider insights
Many of our clients buy from Acquire.  We asked them for some insight into these delays.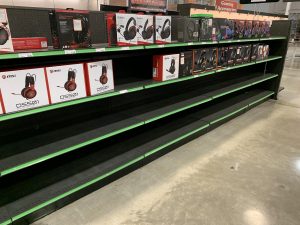 Their CEO, Simon, tells us  "Joseph Heller" wrote a great book "Catch 22" which among other things can mean an "absurd situation" or a "no-win" scenario and that is where we are with hardware shipments of technology products today. There are compounding issues around the supply of integral chips, a limited channel of available and over run of shipping capability due to a drop in airfreight which to a degree was managed on the back of commercial flights. Depending on the product for example, any one of the issues could compound to create huge delays in supply.
At Acquire we supply virtually every brand of "laptop" and we can see that every vendor is affected. We are executing multiple ways to try to get our customers the products they need. Either changing the models on order or moving supply to other vendors. ETA's change daily and frustration levels for us as the supplier and more importantly our customers are high. We have delays of up to 4 months on some products and the only certainty is that waiting to order equals joining the queue later."
Our advice:
Plan ahead – If you know you need a PC for a new starter get the order in as soon as possible
If it is in stock, buy it quickly. We often see items sell out in 10min
You may need to increase your budget – Popular laptop and desktop configurations are not always available but more expensive models are
Every vendor has a comparable product so be flexible as often the machines are the same under the hood. mix your fleet and plan for the best whilst preparing for the worst
Have some spares on hand – Either by buying extra devices or by recycling older machines ready to be used