[header2 text="Let Google Maps help you get where you are going on time." align="left" color="#00cfef" margintop=""]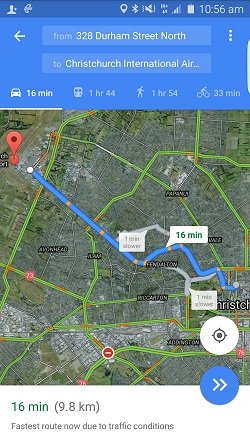 With the annual bustle of Christmas upon us, our office conversation turned to mobile phone apps on Friday.  The surprise was that some of our tech-savvy team were still unaware of the magic of Google Maps to beat traffic.
So, here's the secret to my sanity!  For a route you know well, a destination that very familiar, it seems a bit mad to have an App tell you how to get there.  But of course, Google knows something that you (probably) don't know.  It knows what's ahead – traffic, accidents, roadworks.  Google has on a number of occasions been the difference for me in getting to a place on time, or not.  One notable trip away, we were racing to the airport.  We started with over 4 hours for a 2 hour trip, but as traffic built up, that started to slip and it was getting pretty close.  Then Google Maps said 'turn left – a faster route has opened up' – and we made our flight.  Since then, I've not been able to fault it.  Of course there will always be the odd story where it doesn't work, but that's where our common sense comes in!
So – if you haven't tried it, use Google Maps – let it show you the route and give you the ETA.  Colours on the route help you anticipate traffic, and we've found it remarkably accurate.  Alternative routes and their likely times are shown.  Of course, in the attached screen shot, we've used 'Satellite' view – we actually recommend turning that off to reduce the amount of data you use, but in general we are really pleasantly surprised by how little data it does use.  And of course you can always download the maps 'offline' to your phone in advance.
We've also found the public transit option (the bus icon) really useful for telling you which bus, tram or train you need (and alternative options, and ETA's) if that's your preferred mode of transport.
These holidays, I'll be bouncing between the camera apps (and OneDrive to automatically save my photos), my music apps, and Google Maps to survive the madness!