A few weeks ago, we warned you about changes to Microsoft 365 pricing coming in at March 2022.
We still don't know the exact prices.  Microsoft have published some USD numbers and we have used those to base an estimate on, but we don't know for certain what the final prices will be.  Numbers below are a best-guess only.
JOIN US FOR A WEBINAR TO FIND OUT MORE (SCROLL DOWN FOR DETAILS)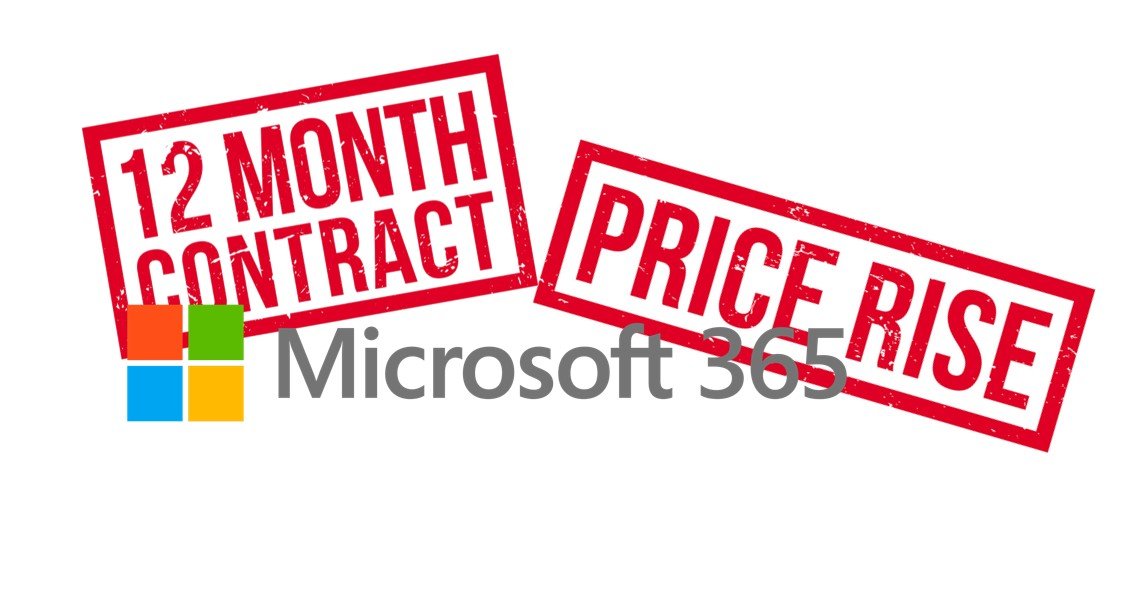 Since then, we have learned about more changes coming.
What do you REALLY need to know?
One of the things we love about the cloud is the ability to add and remove licenses for extra users as our various needs change. This flexibility has been a godsend in these Covid Lockdown times of great uncertainty.
We have now learned that Microsoft are introducing a change to this. The current subscriptions are based on an 'annual commitment paid monthly' model.  Although the licenses are paid monthly, they are technically committed for an annual term, but this hasn't been enforced.  Up until this change, we have been able to cancel/suspend/remove subscriptions with no penalty.
The current annual term has not been enforced.  But, unfortunately, that is all about to change. 
As well as the price increase, the forthcoming changes mean that Microsoft will now be more deliberate with their annual and monthly contracts.  Annual licenses will be about 20% less expensive than monthly.  You will still get invoiced each month, and the main difference is simply that you just can't cancel them until the 12 month term is up.  If you do cancel, you will get an invoice for the remaining term.
Here's how that works for three of our most common licenses:  We have estimated the new prices as best we can, but they are indicative only:
| | | | |
| --- | --- | --- | --- |
| | Annual License | Annual License (mthly cost) | Monthly license |
| 365 Business Standard | $226.80 | $18.90 | $22.70 |
| 365 Business Premium | $398.64 | $33.22* (increased from $30.20) | $39.93* |
| Office 365 E3 | $440.28 |  $36.69* (increased from $31.90) | $51.51* |
*Note that these price increases come into effect from 1 March 2022 and at this time are indicative only. Microsoft are yet to confirm exact prices – expected early 2022
For some 365 products, prices could increase by about a third or more.   For example, Business Premium increases from $30.20 to $39.93 unless we can move some of the licenses to annual – and we need to work this through with you. We can't make that decision on your behalf.
It is even worse for other plans such as 365 E3.  That jumps to $51.41 from $31.90 if we leave it monthly. If we move it to annual we can limit the increase to $36.69 per month.
Key Points
Timing of the transition seems to be starting January 1st, and we anticipate it will be completed by June 2022.   
If you sign up for these new annual agreements before the March price rises, then your price will stay at the January rates until your annual agreement renews in 2023.  You can effectively defer their price increase until 2023

If you cancel a license part way through a month, the cancellation will take effect at the end of the month

When you add additional licenses, these will be prorated so that the end-date of the annual agreements matches the end dates of any agreement you already have for the same license.
Kinetics will need to have a specific license agreement with our clients to include these licenses for you
Kinetics  will offer direct debit to try and make the administration of these easier for you.
There is a little more to this, including how licenses are assigned to people and limitations on transferring those as staff change in your business.
Our Suggestions – to save you 20% or more
One option we wanted to highlight was using a mix of annual and monthly licenses to reduce your cost.  You will be able to mix and match and our recommendation is to use this option and consider a mix of annual licenses and monthly ones so that you can have a little flexibility without paying a premium for it. Most organisations might consider an 80/20 split, so 80% are at the lowest price and you still have 20% flexibility.
Irrespective of the end date of your current licenses, sign up early so that your annual agreement protects you from the March price increase for a year.  We can do this for you because we can break the annual commitment of the current (old) licenses, but we won't be able to do that after the new agreements come into force.
For clients with smaller numbers of licenses, you may choose to pay annually for an annual license rather than worry about these changes every month.
We are expecting some promotions from Microsoft if you sign up early, and will keep you posted as they come to light.
We know this is NOT good news
No one likes a price increase and especially not under the current business environment.
We understand that businesses do need to increase prices, and Microsoft are no different. Nevertheless, we think the price increase quantum is too much and the timing is terrible.
We decided not to increase our service rates this year.  Like many kiwi businesses, we absorbed many of the cost increases we faced.
Unfortunately we don't have a say in this one and we can't absorb it so we have to pass it on to clients.  We know most of our clients will understand as they have faced these challenges themselves, and we have certainly shared our view back to Microsoft about the amount and timing of these increases.
We will keep you updated as more information comes to hand
Presented by: Kinetics's COO, Matt Paterson and our partner : Dicker Data
Join us from 11:00AM to 12:00AM on Tuesday 23rd November 
Date : 23 November
Time : 11:00 AM