Coming next month
Face recognition is  coming to Teams.  Teams will be able to identify you when you participate in a meeting, even when you are in a Teams Rooms (ie in a physical meeting room with other people)
Coming to Microsoft 365 any day now …
Offline access through the web browser to 365 Onedrive
You will be able to access, rename, delete or change files without going into Windows Explorer, even when you are offline.  Files will automatically sync when you are next online.
Forward messages in Teams
Expect the next Teams rollout to let you right-click a message and forward it on to others, and even  to groups.
Teams Webinars are more professional
Now you can hide attendee names in webinars – people viewing webinars will get a little more privacy with only the presenter and organiser being visible.
Forms add-on for PowerPoint
Engage dynamically with your audience during a presentation, for example asking the audience to rate something or vote for a choice.
Just arrived in Microsoft 365
Meetings view in Onedrive.
Now you can see your meeting content in one easy view,  grouped by meeting in chronological order.  It includes content from invites, chats and recordings. 
While you are checking out the new Onedrive views, have a look at 'Shared' and 'People' views – this should make content easier to find by adding more context to it.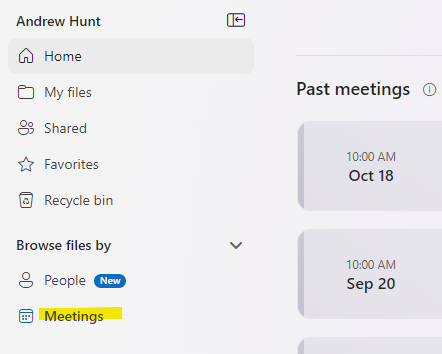 Just added to Teams – "Town Halls".
These are really easy to set up as it uses the same experience as you use to setup a meeting or a webinar.  These allow you to deliver HUGE sessions such as "fireside chats", or company broadcasts etc, for up to 10,000 participants (or even 20,000 participants with the premium version) – there are all sorts of capabilities including green rooms, live translation and transcriptions and more.