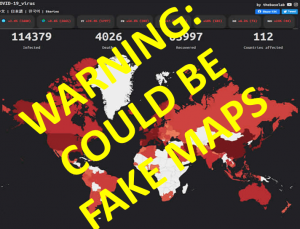 The United States' Federal Trade Commission (FTC) has received more than 17,000 complaints from U.S. consumers who reported total losses in excess of US$13 million from COVID-19 related scams.
The crime that was reported the most was the rather broad category of fraud with 9,634 complaints, with 46.4% of them reporting a loss. It's safe to say that the official figures don't paint the whole picture, however, as many scams go unreported.
We're seeing similar issues in New Zealand, such as emails purporting to be the the World Health Organisation (WHO) asking for donations, and fake Coronavirus maps. There as even fake online shops selling non-existent face masks. In Australia, they've also reported fake text message alerts.
What You Can Do
All of the advice comes back to the basics – the main risk we see is that while your business PC might be well protected, the same is not necessarily true of a home PC that you might be using during the lock down.
It's more important than ever to remain vigilant and verify everything, even if it appears to be on the up and up at first glance.
With KARE for Security, Kinetics can also help educate your employees about cyber threats such as phishing. Kinetics can help defend against hackers and data thieves. We can help you with strong firewalls, implement sound password policies, update SSL Certificates and put data encryption mechanisms in place, and we can now extend these to support home PCs.
References
https://www.welivesecurity.com/2020/04/14/us13-million-losses-coronavirus-scams/
https://www.cert.govt.nz/individuals/alerts/attackers-using-covid-19-themed-scams-updated-alert/
https://www.rnz.co.nz/news/national/411356/cyber-criminals-taking-advantage-of-covid-19-coronavirus
https://www.ncsc.govt.nz/newsroom/covid-19-useful-cybersecurity-resources/
https://www.cyber.gov.au/advice/covid-19-protecting-your-small-business