Microsoft love tweaking the Office ribbon bar. I'm never sure if it's an improvement or not, and that's certainly the case now.  It is probably a personal preference.
Actually, this time it's not a replacement, although it may look that way – it's a simplification option, although it looks to be 'on' by default. The intent is to keep the main features available, but take up less space on your screen. The current tool bar is quite large, and while it's fine on a large screen, it takes up to 10% of the monitor on a small laptop like the new Surface Go which makes it hard to see much real work!
So, its shrunk! It now looks like this


It still changes based on what you are doing :–

The good news is that the old 'classic' ribbon is still there, albeit the icons have been tweaked to reflect the new styles, and to take up less space as well – you can see the change in Outlook below:


The ribbon operates as 'full' or 'minimised' and you can expand it easily by hitting the drop arrow on the right hand side. You will also notice three dots that we've highlighted in the screen clip below. They drop down an 'overflow' list with more relevant options.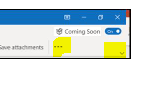 This should give you more screen space for email, documents and spreadsheets – which is a good thing, and you can still 'pin' your preferences to the ribbon to make it just right for you.
[header2 text="Coming Soon!" align="left" color="#336A40″ margintop=""]
Finally, in the screen clip above, you will have noticed a 'coming soon' item. That's for the adventurous. It's a preview pane that will let you preview, read about, and experience changes that are coming soon to email and calendar.
It's a good link to the Kambium service we offer to help you and your colleagues stay ahead of changes, and work out how to apply it to get the best wins for your business