Overview
Eliot Sinclair & Partners (ESP) provide surveying, engineering, planning, landscape architecture and urban design consulting.
Headquartered in Christchurch, New Zealand, Eliot Sinclair have provided consultancy services across South Pacific and Asia with their team of 100 staff across 3 offices in the South Island.

Their challenge
Over the years Eliot Sinclair had invested heavily in technology and were looking for certainty that this investment was being utilised fully. Being high technology consumers, their staff had a long list of projects that they wanted to do to improve business systems but needed clarity as to what would deliver the best return on investment. They also had a responsibility to their external and internal stakeholders that governance was in place to ensure that:
IT was aligned with the business's requirements.
Their data was safe, given increasing cyber-criminal activity.
"I have to report to several stakeholders and wanted an independent report to highlight what was going on. To help clarify our current position I also needed an independent review of our technology infrastructure, processes and governance so the entire framework could be examined without prejudice" said Mark Allan, Managing Director.
Mark engaged Kinetics Group to conduct a FlightPlan.
FlightPlan 
A FlightPlan (Best Practice Review). compares what the organisations values and priorities are for their technology, with what is actually happening, and what should be happening (best practice).  In technology, 'best practice' varies greatly, depending on the context.   What matters and what may be appropriate for a company of 5,000 staff does not necessarily apply to a New Zealand SME.
The FlightPlan (Best Practice Review). covers 140+ questions that address:
Information Assets
Cyber Security
Governance
DR and Resiliency
Staff Capability
Infrastructure
The IT BPR report prioritises recommendations based on:
Must do – critical issues highlighted or easy, quick fixes.
Should do – Important, but not critical or time bound recommendations.
Could do – issues to investigate that would add value to your business.
Each recommendation includes an estimated effort required to complete along with the business benefit (business as usual / added value / bleeding edge).  The recommendations may include an indicative cost budget.  This gives business leaders clearer information on which they can make better business decisions.
Recommendations are summarised into three "pillars" and are then mapped against priority, cost and effort to help prioritise the tasks: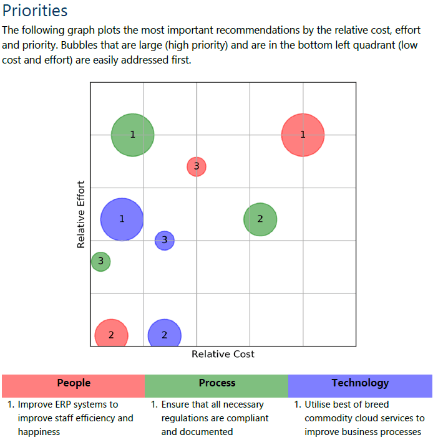 We show how your IT scores in each category and compare you against responses from over 100 completed reviews to-date: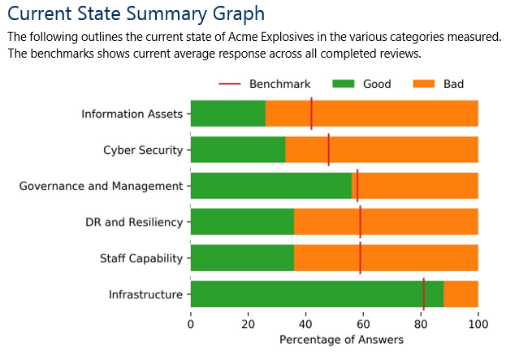 A summary of all recommendations is classified, by priority, at the start of the report along with an indicative effort (time period) and costs: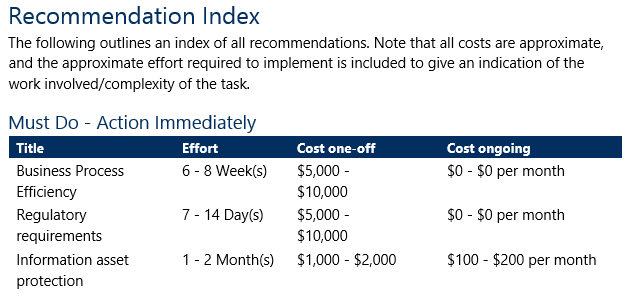 Detailed recommendations are provided within the report, with the business reason/problem for each issue: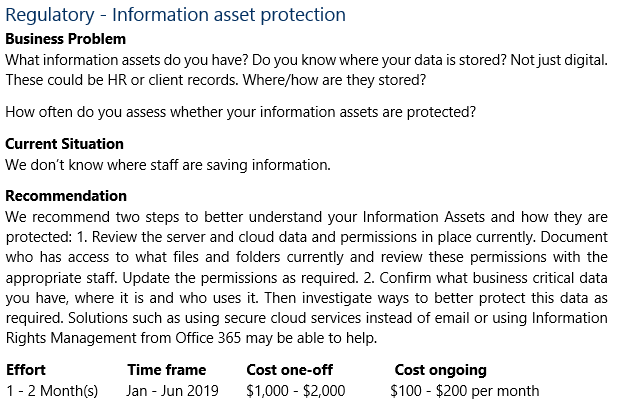 The Result
The FlightPlan (Best Practice Review). identified areas of risk that Eliot Sinclair could immediately resolve. "We spend so much time and resource working in IT, it was good to take a step back and get a helicopter view" said Mark Allan.
Eliot Sinclair then concentrated on improving areas that were most beneficial to the business and mapped out others that required further investigation. The Best Practice Review provided a roadmap that enabled Eliot Sinclair to budget more accurately, with clear links to business requirements. The Best Practice Review can easily be referred to in future and refined as their business grows.
 ​Mark said "I thought I had a pretty good grip on our business systems and IT requirements but the BPR helped uncover issues that I wasn't aware of. As such we were able to plan address them and 6 months on, we have completed 60% of the tasks that were identified"