We recently moved our phones to Microsoft Teams. It's an increasingly common configuration and means we have a single programme for our real-time collaboration.
Less is more!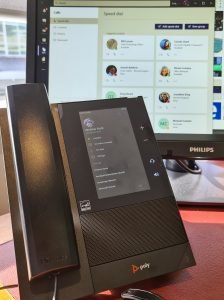 There's nothing like a project that removes infrastructure and risk. We have less to maintain, but we can do so much more than we could before. It's easier to setup conference calls and to support a mix of video and voice connections seamlessly. We can connect from anywhere, with Teams following us on all devices no matter where we're working from.
Like all projects, the secret is in the planning. Its not just a technical switch, but a user switch as well – we recommend following change management principles, and our expert change managers at Kambium are eager to help you.
Microsoft are making this change even easier with some special deals. They are offering the audio conferencing for free for a year, and a discount of 35% for the advanced communications license.
https://www.microsoft.com/en-us/microsoft-365/blog/2020/09/08/3-deals-meeting-calling-experiences-microsoft-teams/ 
We'd love to talk to you about how Teams can streamline your business today!  GET IN TOUCH