1. What is it?
We've mentioned before that Microsoft had stated that Windows 10 would be the last version of Windows and it would simply keep being updated. That's played out well over the last many years, but now we do have a new version – Windows 11.
New Windows 11 for Business is now starting to become available.
Highlights include built-in Teams, added more security, and the ability to have 'personal' and 'work' desktops to separate out work from home.
You should expect to see your documents follow you, irrespective of the machine you use – your desktop at work, your laptop or your tablet. To be fair, that already happens to an extent in Office365 and what you now see from the menu first are frequently used apps and now it will also include documents.
Most of the changes appear fairly cosmetic, but anything that makes a PC more convenient and easier to use is a good thing. A few minutes saved here and there really add up, especially when you are busy.
Teams is now built into the taskbar, and we've speculated before that this, coupled with the personal versions of Teams, will be the death-knell for Skype. However, most people have long since moved on so this probably isn't a big deal.
One feature that I am looking forward to is the ability to 'snap' windows together and allocate the screen more reliably. One of the hardest aspects to working from home was losing the multiple monitors that many of us have at work. Look out for 'Snap Layouts' and 'Snap Groups'.  We have concluded this works better with larger screens.
Find out more : Get Windows 11 | Microsoft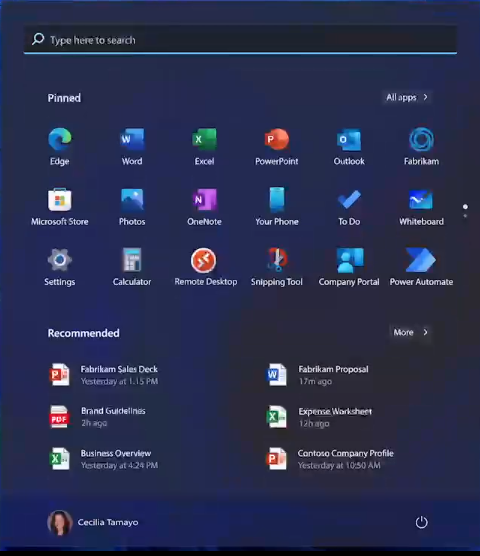 Figure 1 – New Windows 11 Start Menu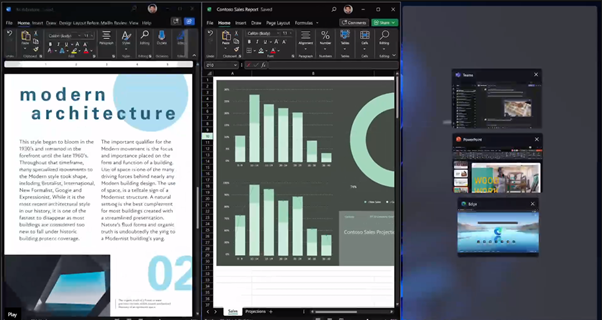 Figure 2 – Snap Layouts in Win11
2. When is it coming?
"Beginning October 5th" although Kinetics will be a little cautious before we push this out to our clients, and we will want to test it with your common software applications and give you a chance to warn your colleagues rather than landing a surprise on your desk one morning!
However, if you can't wait, the new version will progressively be available to download from the Windows Update link in Windows.  It isn't available for every device yet though, as you can see in this example screenshot.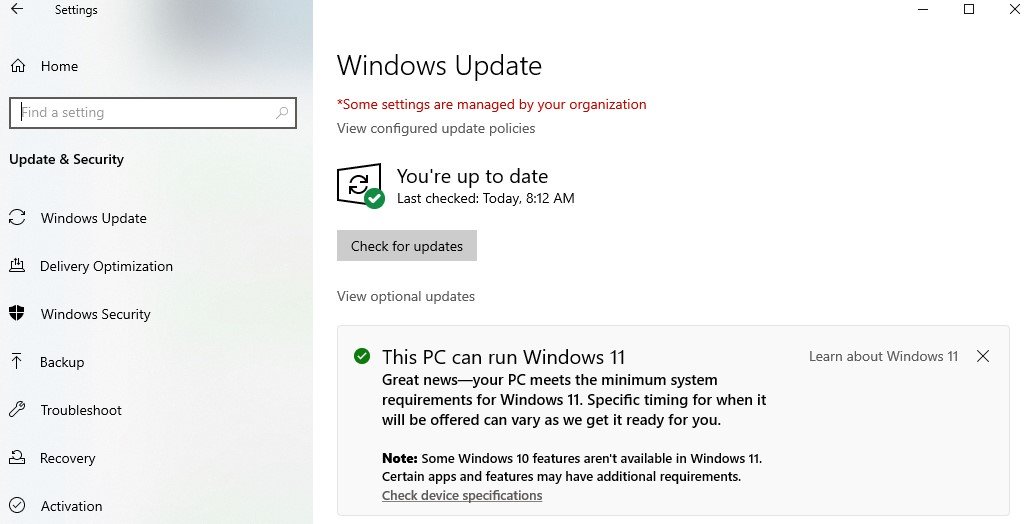 3. What will it cost?
It's free. But only Windows 10 PCs that are running the most current version of Windows 10 and meet the minimum hardware specifications will be able to upgrade.
The free upgrade offer does not have a specific end date for eligible systems. However, Microsoft reserves the right to eventually end support for the free offer. This end date will be no sooner than one year from general availability.
The free upgrade is for the same edition as you have on your Windows 10 device. For example, if you have Windows 10 Home edition, you will be upgraded to Windows 11 Home edition.
4. Will it run on my PCs?
Microsoft are saying that machines need to have 1Ghz CPU, 4GbRAM, and 64Gb storage. There are a few other requirements, from screensize to graphics processor. Basically though, anything that is only a year or two old should be fine to run Windows 11, albeit there might be the odd exception.
You can check for yourself by using this link : https://www.microsoft.com/en-us/windows/windows-11#pchealthcheck
5. How do we manage this being deployed across our business?
At this stage, it looks like it will simply act like a giant Windows update, but of course, afterwards things will look different for your users.
We're going to take a cautious approach, and rather than rolling it out straight away, we'll test it for a bit, and monitor feedback from early adopters. Despite every effort by Microsoft, new versions of Windows have often brought unexpected problems with them.  As our CTO points out, there is no race to get these done, and as you will have read above, Microsoft haven't put any time limits on the upgrade.
Any prudent company which runs a specific vertical application should wait, then arrange a testing, before upgrading, and check with their software suppliers.  Its as likely to be small things like old label printing solutions or the like that present challenges. 
When you do go ahead, we will have some quick guides and webinars and will be ready to help you and your colleagues make the most of this new version of the software we all use everyday,